Moda Blockheads 2017 Block of the Week
Welcome to Moda Blockhead Block of the Week Club - A FREE Block of the Week Program!



Beginning March 3, 2017 we will provide a series of FREE downloadable "blueprint" block patterns. A new block pattern will be posted every Friday. The blueprints will be rendered in gray-scale to allow everyone to color their blocks using a wide variety of fabric and color choices. Mix your favorite fabric and colors to create your colorful scrappy quilt.

Settings options and instructions will be provided at the end of the run.
Click on the words above the selected pattern image to download your free printable pattern.
Remember - quilt block patterns will only be available for a limited time so start collecting today!
Feel free to post your blocks on our

Facebook

page, Instagram (#modablockheads or #thequiltspot) or send us a picture and we will share it for you.
Don't miss a week!

Subscribe

to our newsletter to be notified of each week's new block postings!
Click Here for Block 48

Click Here for Block 47
Click Here for Block 46
Click Here for Block 45
Click Here for Block 44
Click Here for Block 43
Click Here for Block 42
Click Here for Block 41
Click Here for Block 40
Click Here for Block 39
Click Here for Block 38
Click Here for Block 37
Click Here for Block 36
Click Here for Block 35
Click Here for Block 34
Click Here for Block 33
Click Here for Block 32
Click Here for Block 31
Click Here for Block 30
Click Here for Block 29
Click Here for Block 28
Click Here for Block 27
Click Here for Block 26


Click Here for Block 25 and Optional Piecing 25

Click Here for Block 24
Click Here for Block 23


Click Here for Block 22
(The document says block 4, but is is the fourth block this designer has posted, which is the 22nd block of this series)

Click Here for Block 21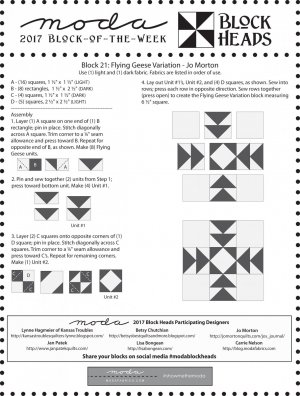 Click Here for Block 20
Click Here for Block 19
Click Here for Block 18
Click Here for Block 17
Click Here for Block 16
Click Here for Block 15
Click Here for Block 14
Click Here for Week 13
Click Here for Week 12
Click Here for Week 11
Click Here for Week 10
Click Here for Week 9
Click Here for Week 8
Click Here for Week 7
Click Here for Week 6
Click Here for Week 5
Click Here for Week 4
Click Here for Week 3
Click Here for Week 2
Click Here for Week 1 -